INTERNI "HOUSE IN MOTION"
UNIVERSITÀ DEGLI STUDI DI MILANO | 16 – 28 APRIL 2018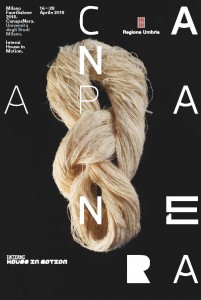 ---
Daniela Gerini takes part at Design Week 2018 with a project for the Umbria Region created in concert with the Accademia di Belle Arti of Perugia's Professor Paolo Belardi as part of Interni's "HOUSE IN MOTION" event.
PROJECT
The installation entitled CANAPA NERA (Black Canvas) "I looked at the rubble and imagined the future" is a conceptual work, resonant with meanings, which aims to evoke the dramatic seismic events that shook Central Italy and Umbria. It is represented by a cold, two-sided wall that, on the side facing the tree-lined courtyard, shows a chaotic explosion of rubble taken from the red zone of the Umbrian crater and is symbolic of a living, concrete memory.
The side facing the portico counterbalances the power of the rubble with the power of colour, offering a polyptych composed of eleven abstract paintings created on hemp canvas, an ethical product typical of Umbria. The alchemical mix of colours is inspired by the wonderful flowers that bloom in Umbria's valley of Castelluccio di Norcia. A symbolic interpretation that seeks to convey the desire for rebirth and solidarity: it is necessary to have a higher goal in order to look forward with courage and resilience.
In this installation the theme "HOUSE IN MOTION" relates to the reconstruction of the homes and artistic heritage that was destroyed; it also reminds us that living is not just a material act, but represents the immaterial act of reconstructing the identity of a whole community. In this way, "house in motion" translates to "HOUSE IN EMOTION".